Enlightenment legacy: the rights of man in a global perspective
International Summer School
Turin Humanities Programme – THP
The Turin Humanities Programme Summer School "Enlightenment legacy: the rights of man in a global perspective" intends to elucidate, from a global perspective, a fundamental – although often neglected – aspect of the legacy of the Enlightenment to better understand its enduring and controversial presence over time in the fields of politics, society, law, and economics.
Namely, the Summer School will focus on the political and constitutional language of the rights of man, seen as the most lasting legacy of the cultural revolution through which the Enlightenment changed the course of global history, acting as a "laboratory of modernity".
The Summer School will engage with the Enlightenment's transformation of the old moral concept of natural rights into the modern political language of the "rights of man" and will explore the controversial affirmation and metamorphoses of the Enlightenment's culture of rights in a global context since the French Revolution.
Scientific Coordination: Vincenzo Ferrone and Valentina Altopiedi, Giuseppe Grieco, Alessandro Maurini

ENLIGHTENMENT LEGACY AND RIGHTS
9.00-9.30am Welcome and registration
9.30-9.45am Institutional Greetings – Piero Gastaldo
FIRST SESSION Chair: Piero Gastaldo
9.45-10.30am Lecture | Enlightenment Legacy: between individual rights and collective rights – Vincenzo Ferrone
10.30-11.15am Lecture | Que reste-t-il des Lumières? Les droits de l'homme à l'épreuve de la critique post-coloniale – Céline Spector
11.15-11.45am Coffee break
SECOND SESSION Chair: Graham Clure
11.45am1.00pm Participants' Research Projects – Part I – Participants
1.00-2.00pm Lunch break
2.00-3.00pm Visit to Museo Nazionale del Risorgimento Italiano
3.30-5.00pm Participants' Research Projects – Part II – Participants
THIRD SESSION Chair: Vincenzo Ferrone
5.00-5.45pm Lecture | Rights, Constitutions, and Liberalism – Dan Edelstein
5.45-6.30pm Lecture | Writing the History of Human Rights: Some Personal Reflections – Lynn Hunt
TURIN HUMANITIES PROGRAMME RESEARCH PROJECTS
FIRST SESSION Chair: Céline Spector
9.15-9.45am Lecture | Rousseau's Last Masterpiece: The Political Institutions of Poland – Graham Clure
9.45-10.15am Lecture | The Greek Republican Tradition's legacy and the movement of immediate abolitionism in the early 19th century – Ariane Fichtl
10.15-10.45am Lecture | The Scottish Enlightenment and the Politics of "Modern History" – Tom Pye
10.45-11.15am Lecture | Biological Mythmaking and the Power of Visual Embodiment – Brynne McBryde
11.15-11.45am Coffee break
11.45am1.00pm Panel Session: The challenge of global intellectual history: ongoing and new research projects – Fellows and participants
1.00-2.00pm Lunch break
SECOND SESSION Chair: Nicholas Cronk
2.00-2.30pm Europe and East Asia before modernity: the challenge of comparative intellectual histories – Serena Ferente
2.30-2.45pm Lecture | Bodies at War: The Imperial, Divine and National Bodies in a Medieval Japanese Esoteric Buddhist Text – Yaara Morris
2.45-3.00pm Lecture | The Blood, Breath, and Sinews of the State: Governing the Fiscal Health of the Body-Politic – Giorgio Lizzul
3.00-3.15pm Lecture | All Things as "One-Body" (yi ti). Virtue, Order and Corporeity in the Philosophy of Zhu Xi 朱– Rudi Capra
3.15-3.30pm Lecture | Medieval Corpus and its Parts through Corpus-based Semantics – Evgeniya Shelina
THIRD SESSION Chair: Tom Pye
3.30-4pm Lecture | The Rights of Man and the Burden of Women. Mind and Body in Eighteenth-Century Moral and Political Thought – Valentina Altopiedi
EVENING SESSION Chair: Piero Gastaldo
6.00-7.00pm Lecture | Music of Light. How the great musicians helped to shape and represent the Enlightenment – Giovanni Bietti
7.00-7.30pm Classical Music Concert Beethoven – Op. 135 – QuartettOCMantova
7.30-8.30pm Visit to Palazzo Carignano and light refreshments.
DIGITAL HUMANITIES AND ENLIGHTENMENT LEGACY
FIRST SESSION Chair: Ariane Fichtl
9.30-10.15am Lecture | Digital Enlightenment at the Voltaire Foundation – Nicholas Cronk
10.15-11.00 am Lecture | Naturalrightshistory.unito.it: the historical foundations of human rights – Alessandro Maurini
11.00-11.30am Coffee break
SECOND SESSION Chair: Brynne McBryde
11.30-12.00am Lecture | International Law and National Self-Determination. Globalizing Rights in the Nineteenth century – Giuseppe Grieco
12.00-12.30am Final remarks – Piero Gastaldo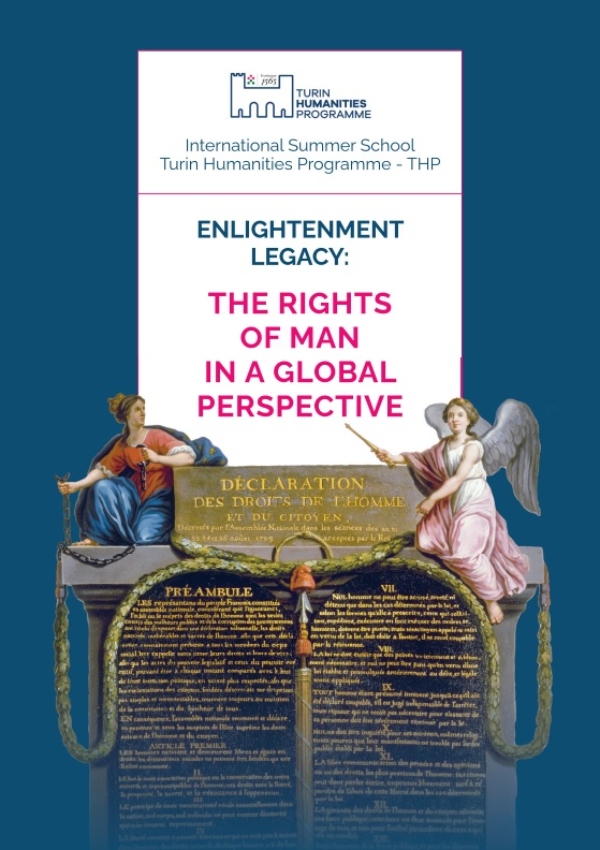 Enlightenment legacy: the rights of man in a global perspective
Editors: Vincenzo Ferrone, Valentina Altopiedi, Giuseppe Grieco e Alessandro Maurini
Publisher: Fondazione 1563 per l'Arte e la Cultura della Compagnia di San Paolo
Year: 2022
Language: inglese
Pages: 88 pp.
Isbn:9788899808419
About the THP Summer School 2022
Serena Ferente, Professor of Medieval History in the History Department of the University of Amsterdam and the Director of Studies of the second research cycle of the Turin Humanities Programme (2022-2024)
Brynne McBryde, Junior Fellow THP
Luis De la Peña, student of the Ph.D. in Historical Studies at the University of Florence
2021-2023 RESEARCH CYCLE
Enlightenment legacy: the rights of man in a global perspective
2022-2024 RESEARCH CYCLE
Political Thought and the Body: Europe and East Asia, ca. 1100-1650